Door Security
For Businesses
When you are a business owner, you have to take care of the security of the premises, the people, and your precious inventory and any cash in register, apart from sensitive documents and materials. Whatever the size and nature of the business, you need to protect it from theft and break-ins. Your security has to be studied, your threat considered and then a plan devised to keep your business safe. We at Irvine Locksmith Services have served plenty of commercial businesses over the years and so you can trust to take care of your commercial security needs.

.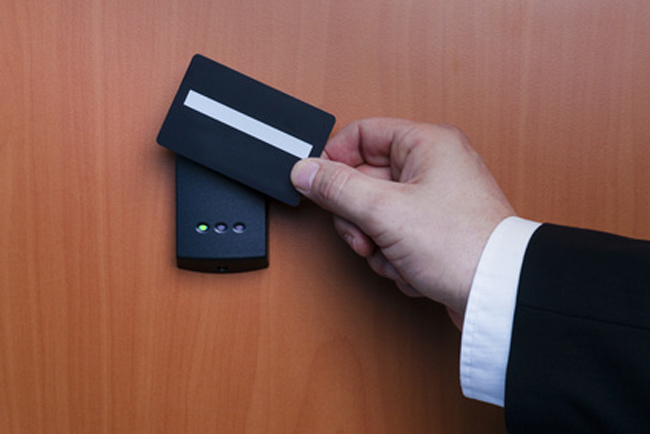 One of the fundamental ways a thief can steal information is by just walking in through your front doors. We have all seen the many bank heists in the movies. The thieves just walk in and 'ask nicely' like Daniel Ocean. This means that your front door has to be impregnable to safeguard your business. We at Irvine locksmiths know the importance of having good door security for businesses. When you have a problem with the front door of your business, or if you need servicing of the existing locks, or new keys for any new recruits or replacement keys, or re-keying, call us for all your commercial locksmith services. If it is an emergency, call our dedicated hotline at any time of the day or night, and our certified commercial locksmith will be on his way to your place of business within minutes of your call. If it's not an emergency, you can call us during regular business hours to fix an appointment or for a quote for any service our entire range of services. No job is too small or too big for us, as all our customers are equally important.As a good sized business, you can use a multi-pronged security system, including a security camera outside the building, apart from the common areas inside the premises. This gives a you a visual record of what's going on in the building. Your employees are given a keycard to gain access into the building as your ideal door is an access controlled door. This essentially means that no one other than your employees or other legitimate personnel like the cleaners can enter the building. We at Irvine locksmith services can install and also repair this access control system for your front door security for your business. We have many commercial locksmith clients and we have earned a reputation in Irvine for timely service at reasonable rates.

You should have a security desk at the entrance to your place of business, but still you will need other deterrents like a limited access door in order to truly safeguard your business. Our certified commercial locksmith will arrive in the fully outfitted van, and help you by fixing the problem with your front door. We are a fully licensed and bonded locksmith company, with trained and certified commercial locksmiths and so you can trust us to take proper care of your commercial locksmith needs while dealing with the front door security for your business.
OUR SERVICES

Automotive Services
Residential
Commercial