Lock
Rekeying
When you have recently bought a house or if you think for some reason that your locks and keys might be compromised, you don't have to change the entire locking mechanism. You can just change the combination of the locking mechanism and get a fresh set of keys cut to fit into the newly changed lock. This is called rekeying, and the residential locksmiths at Irvine Locksmith Services are trained and certified experts at it.

We at Irvine locksmiths, have years of experience in dealing with automotive, residential and commercial locksmith services and so call us when you are facing any problems with your locks or if you want your old keys made redundant for whatever reason. You don't need to incur the expense of changing your whole locking mechanism; you can just opt for changing the combination. How this works is that the entire lock is removed and the inner mechanism exposed; then the trained and certified residential locksmith changes the combination of the lock, making it unique and distinctly different from the old one; then he cuts new keys for you to be able to operate the new lock..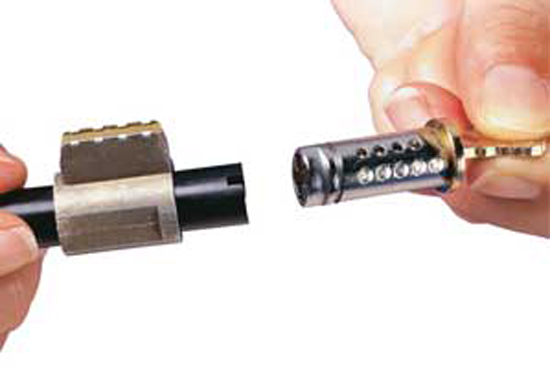 You have to ensure that the locksmith you hire for getting you lock rekeyed is reliable and trustworthy. At Irvine Locksmith Services, we have many years behind us of serving in the Irvine area, and have built a solid reputation. We are a fully licensed and bonded locksmith company and so you can trust us to give you the best possible service when you engage us for securing your home by re-keying your locks. You cannot take a chance with the security of your family and your home, by calling just some fly-by-night operator.

When you call us for a lock rekeying job, our certified residential locksmith will arrive at your doorstep with all the necessary tools in the specially outfitted van in order to carry out the necessary work then and there. The expert residential locksmith will need only a small set of tools to complete the lock rekeying, including the lock rekeying kit from the manufacturer of the original lock. Our certified and trained residential locksmith will be carrying the necessary lock rekeying kit from almost all the manufacturers, and so your rekeying job should be finished as early as possible.

We at Irvine locksmith are open always. So in case of emergencies or break-ins, you can call us day or night. We will dispatch our expert trained residential locksmith to your home to help you within minutes of your call, anywhere in and around Irvine. Alternately, you can call us to schedule an appointment to discuss your lock rekeying needs or to get a quote, during our regular business hours. Our dedicated hotline is open 24 X 7 and so you can call us on that or during regular office hours. We have a solid reputation due to years or dedicated and reliable services and so you can trust us for your security needs for your vehicle, home or your business..
OUR SERVICES

Automotive Services
Residential
Commercial