Residential Locksmith
Services
When you are a family man, your first priority is to ensure the happiness and safety of your family. For doing so, you need the services of a reputed and reliable residential locksmith to ensure that all the all the doors, windows and other access points are securely locked up. You are responsible for the safeguarding of your home and its contents. If you have recently bought your home, you never know who else might have been given a set of keys and so it is always the best to have the locks changed by a trained and certified residential locksmith.

We offer a wide range of services for homeowners for securing your home, like changing the locks, replacing lost keys, getting you duplicate keys cut, installing home security systems, etc. We ensure that we provide the best possible services by using the latest tools and materials so that you and your family are able to stay safe. After all, your home is your castle.

We at Irvine Locksmith Services are open 24 X 7 and so you can call us at any time that is convenient to you for scheduling an appointment. In case of any emergencies or break-ins, call us on our hotline and we will send our trained residential locksmith within minutes to help you. We are fully insured and bonded and so when you engage us for repairing or replacing the locks in your home, you can do so with absolute peace of mind.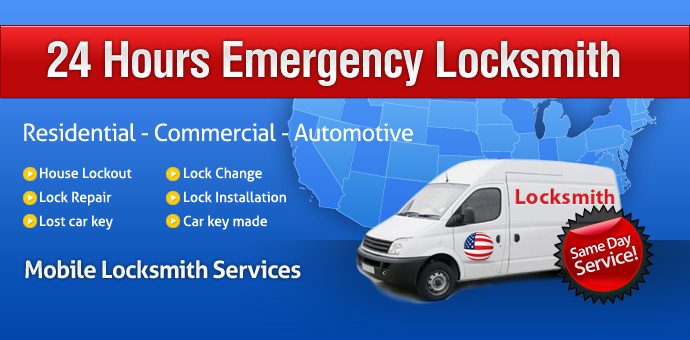 In our modern society, burglaries, thefts and break-ins have become a fact of life. Therefore, you, as a homeowner have to ensure that your home is safe. The latest residential locks are quite sophisticated and range from remote keys and laser keys to electronic keypads to those requiring finger printing or retinal scanning. These kind of sophisticated locks also come equipped with alarms or triggers that sound when someone tries to tamper with them. Your residential locksmith can even facilitate a lockdown in case someone is trying to enter your home illegally. This lockdown will ensure that nothing and no one can get in or out, keeping you and your family safe.

We at Irvine Locksmith Services help you to stay safe by being on call 24 X 7. When you call us on our hotline with an emergency, from any place in Irvine, we dispatch our trained residential locksmith to reach you within minutes of your call. In case you don't need emergency assistance, you can call us during regular business hours and fix up an appointment. You have the responsibility to ensure that the locksmith you engage for changing or repairing the locks in your home locks is a reliable and trustworthy person.

We are reputed, reliable and trustworthy. We at Irvine Locksmith Services offer faultless service at quite reasonable costs. As we are an insured and bonded company, you can hire us to take care of your home with absolute trust and peace of mind. Our residential locksmiths are trained in all kinds of residential locks and also in the installation of home security systems, smoke alarms and burglar alarms, so that you can relax in your home, knowing that your family is well protected and safe.
OUR SERVICES

Automotive Services
Residential
Commercial