Home
Safes
Everyone has things that are valued beyond other possessions; it is human nature to place value on inanimate objects. Sometimes these might end up having a tangible value like bank notes, bonds, wills and business agreements, property documents or family heirlooms like jewellery and ornaments. These important things are almost always kept in a safe place with varying levels of protection. An ideal location for such valuables is a home safe. These safes are designed for home use and can be of many types – wall mounted, floorboard type, cabinets be it for documents, keys, cash or even guns. But one common thing that almost all these home safes have is a high level of protection from unauthorised attempts to open them.

Usually your home safe comes with a single master key or a keypad lock which requires a special combination to open. Where these safes become traps is when their owners' method of access to the contents of the safe is lost – the master key is misplaced or the pass-code is forgotten. Opening the safes then will be one of the toughest tasks one might face, possibly exacerbated by any urgent need to access the items inside the safe. The only option available in that case is to call a locksmith..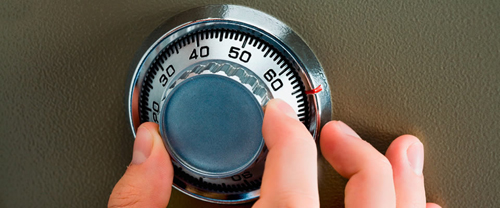 We at Irvine Locksmith Services have a specialised unit that addresses safe cracking with the same level of dedication and expertise that we bring to all of our automotive, residential and industrial customers. Since home safes are made to prevent breaking in, the locking systems are usually very complicated and require precision tooling to create a replacement key. Breaking a keypad lock is a more complex task since it requires some high level programming to guess the code using a brute force algorithm that attempts all possible combinations of the numbers or letter present on the keypad. Our residential locksmiths have plenty of training in handling home safes and are also thoroughly screened and vetted, and so you can trust them to help you in a fix.

Irvine Locksmith Services can help you gain access to your home safes as soon as possible. We possess all the tools and equipment needed to fabricate a replacement key. In the case of keypad locks, each system comes with an inbuilt trapdoor mechanism that allows the installer or a certified safe specialist to reprogram the pass-code. Our trained and ex proven pert services are available at quite reasonable rates and the quality and of our work led us to be a success here in Irvine.

Since we are open 24 X 7, you will never have to face delays because of problems with your home safe. When you call us on our hotline, a trained residential locksmith is dispatched to your location, within minutes of your call. All of our responders are provided with all the required tools to help you. Even if the scenario requires the use of blow torches or cutters to literally break open the safe, if the need is dire enough, our workers are sufficiently trained and experienced to carry out the task on site, meaning that you do not have to waste time having the safe removed from its location and transported to our facility. You can trust with your safe, and you can trust our fully licensed and bonded locksmiths for all your problems that might need expert residential locksmith services.
OUR SERVICES

Automotive Services
Residential
Commercial